Remote working allows employees to work even without an office environment. Recently, the WFH culture gained immense popularity due to the COVID-19 pandemic. Since organizations were not operating during COVID, employees had to work from home to ensure business continuance.
The WFH culture helped many organizations to steer through the challenges thrown by the COVID pandemic. Implementing a remote work culture can be challenging for a business organization. Read on to know five mistakes that can be avoided while implementing the WFH culture.
1. Not having a timely conversation with the onboarded person
Many organizations go radio silent on newcomers once they have officially joined the company. Lack of communication with newcomers can hamper the teamwork in the organization. Sometimes employees are so much tangled in their work that a lack of communication happens.
However, the onboarding team in your organization should focus on having conversations with newcomers at frequent intervals. Conversations with newcomers can be made via mail, SMS, call, or video conferencing. Having these discussions makes them feel free to discuss their hurdles while performing any duties.
2. Lack of communication with team members and seniors
Lack of communication can stop the flow of information in an organization. It is the responsibility of team leaders to make sure their peers or colleagues are communicating well enough. Standard communications channels should be established for tracking their work progress.
Team members should also be well-rehearsed with all communication tools like Microsoft Teams, Slack, and others. Similarly, interacting in real-time with audio/video conferencing tools creates team bonding and better engagements. Team leaders can also create a group on any platform to discuss project-related issues or important updates which can be shared instantly. With these groups, communication gaps will be avoided and the team could complete their given tasks within a timeline.
To build communication outside the team and within the organization, arranging corporate events and online meetups, tech seminars helps team members to get updated every time.
3. Not having resources ready for remote team members
Organizations should not blame the employees if they do not have a dedicated infrastructure for remote work. If possible, the organization can create a work from home kit to facilitate their work. If we talk about resources, KT (Knowledge Transfer) sessions can be organized to get the teams involved in a project. Sometimes, the availability of online KT material assists all teams in a much faster way. Deadlines, projects on hand, documents, data, and other resources should be available to joiners to start their work on time. If documentation of available resources is not done, people may find it difficult to perform their duties.
Also, the organization must find out whether their employees have devices that can support business processes or not. Major and minor IT issues during remote work can hamper service availability. It is better to monitor the remote work infrastructure regularly to avoid any IT issues.
4. Not having a conversation regarding the job location and time zone
Following the WFH culture doesn't mean that you will not be more apt at the job location with newcomers. Convey the job location and the reason for remote work to newcomers. If there is a possibility of ending the remote work in the future, convey that to the newcomer. Also, it is required to let them know about the time zone in which they will be working. Having a transparent relationship with your employees will yield better results.
5. Not introducing the WFH culture
Not all newcomers are familiar with the WFH culture. Your onboarding team should explain the remote work technique to newcomers and existing employees. If required arrange the recurring meetings to set clear expectations with all teams and develop a collaborative atmosphere among the employees. Recurring meetings can be done on any collaborative platform like Skype, Zoom, and Google Meeting. While arranging calls for different time zones, it is necessary to check the availability of your employees who works in different time zone.
In a Nutshell
Since 2005, the number of remote workers has increased significantly by 140%. Studies have shown that remote workers can be more productive and satisfied. By avoiding some common mistakes, an organization can implement the remote work culture effectively. Start adapting to the WFH culture right away!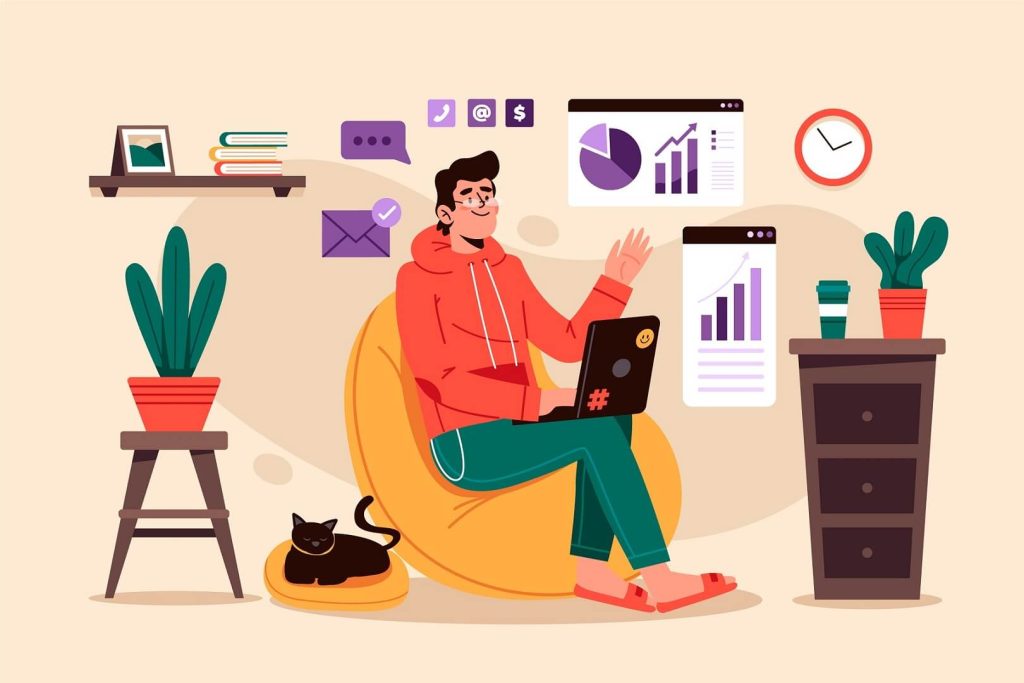 References
The Ultimate List of Remote Work Statistics – 2021 Edition (smallbizgenius.net)
https://www.smallbizgenius.net/by-the-numbers/remote-work-statistics/